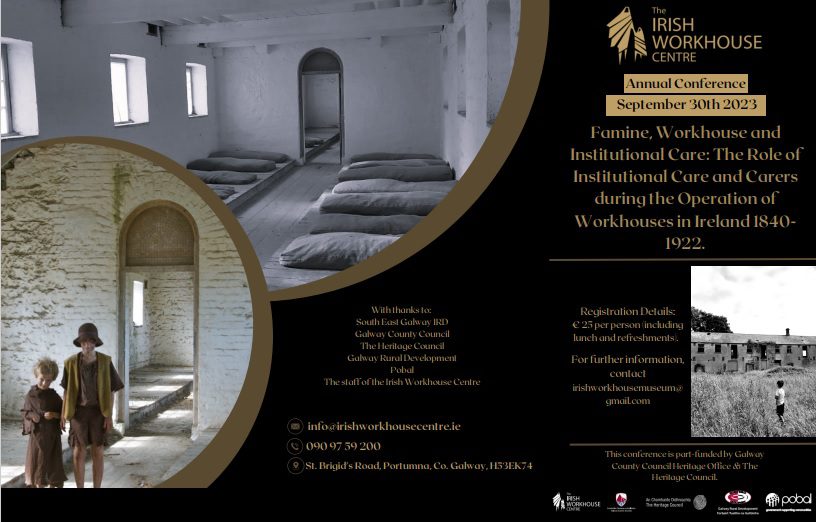 We are delighted to share further details of our September Conference, 'Famine, Workhouses and Institutional Care: The Role of Institutional Care and Carers during the Operation of Workhouses in Ireland 1840-1922'!
We have our wonderful speakers lined up including Michael Kelly, a local historian with an interest in the history of uilleann piping. His latest publication is The Irishtown Piper: the life and musical world of Michael Carney (1872-1938). Michael's conference talk is entitled, 'The Union piper and the Union workhouse: Tales of impoverished musicians'.
Fiona Slevin is a PhD candidate in UCD's School of History. Her research focuses on money flows between households, enterprise and government in a small, rural town in post-Famine Ireland. The title of Fiona's talk is 'Dispensing Vaccination: Mohill Workhouse and the Smallpox Epidemic 1871-72'.
Eamon Healy is a PhD candidate in the History Department at Maynooth University, working under the supervision of Professor Terence Dooley. His PhD thesis is a comparative study of Gort Poor Law Union in Galway and Ballyshannon Poor Law Union in Donegal. Eamon's conference talk is entitled, 'Vice Guardians – examining the forgotten custodians of the Famine Poor 1847-51'.
Emma Laffey is a local historian and member of Skehana and District Heritage Group, and she has spent hundreds of hours gathering interviews, photographs, documents and old video footage, which culminated in the successful An Bhean Ghlúine – Woman of the Knee exhibition. The title of Emma's talk is 'An Bhean Ghlúine: An Holistic View of Midwifery over the last Century'.
Our final speaker is Helen Doyle, a third-year PhD student with the History Department in Maynooth University, and a Graduate Teaching Assistant with the Maynooth University Academic Writing Support Centre. Her research examines how the Criminal Lunatic Act 1838 impacted not only on Irish district asylums, but also on Irish society as a whole. The title of Helen's conference talk is 'Medical Welfare in the nineteenth century: A case study of the Irish District Asylum System'.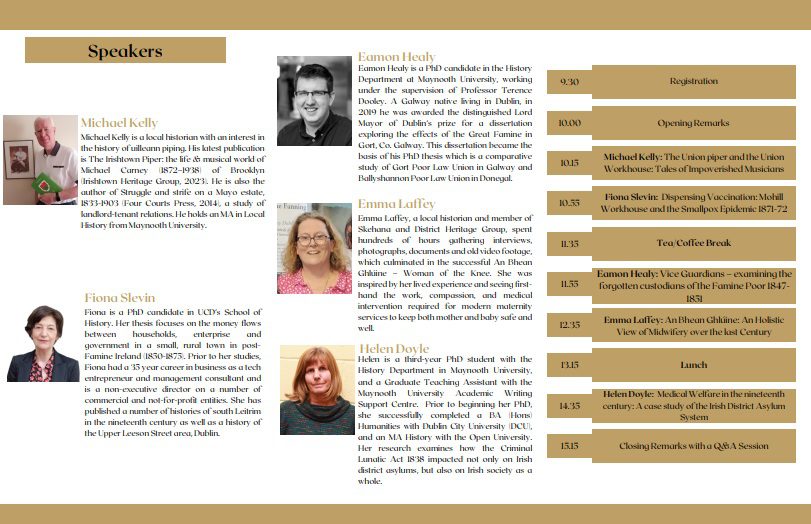 Now all we need is you!
You can register by emailing us on [email protected] or by giving us a call on 0909759200. The conference fee includes lunch and refreshments.
We look forward to seeing you on 30th September.