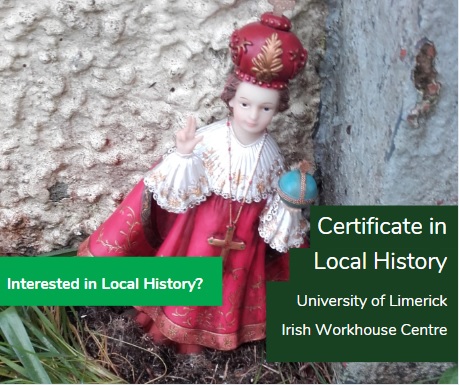 We are delighted to welcome the 2021-2022 Class of the Certificate in Local History.
Hosted by the Workhouse and run in conjunction with the University of Limerick, the course is now in its fifth year. Participants come from all backgrounds and walks of life and the programme is designed to provide a supportive and stimulating context for reading and research in local history.
It offers a qualification to individuals who are already active in the area, an opportunity to those who are interested in historical research for their own personal development, and a possible path to further study.
The course will be delivered through lectures and discussion on one evening a week in each of twelve consecutive weeks of the Autumn and Spring semesters. Applicants are invited from anybody who will be 23 years of age or over on the 1st January of the year of registration. Each candidate is considered on an individual basis whose academic qualifications, work experience, motivation, and overall potential for the programme are evaluated.
This course is now full and participants will start on Wednesday 29th September. Best of luck to everyone involved!
As we develop our online resources, we will be adding courses, online workshops and conferences. So, whether you are based in Galway or living outside Ireland, you can learn about the workhouse poor, and their day to day lives. You can learn at school or at home, wherever suits you best! 
We are providing a series of First Friday Talks online on the first Friday of each month until December, to listen back to previous talks visit our Vimeo channel.
We want to expand our content to cater for young people too. If you have a suggestion, why not contact us!