Nine sketches by the artist David Rooney are now on display in their permanent home in the Waiting Hall of the Irish Workhouse Centre. The Famine Artworks are part of 100 works created by David as part of the documentary series The Story of Ireland, broadcast in February 2011.
Launched by singer, songwriter, and author Declan O'Rourke on 25 August last, the haunting images tell the story of the horrors of famine, emigration, loss, and hopelessness. "David Rooney," O'Rourke said, "is a master of his craft, a living master. I do not say that lightly. Anyone who encounters his work the world over will easily agree. As someone who has studied and worked on the subject of the Famine for a long time, trying hard to find and see, and bring the pieces back to life too — I find these artworks astonishing in their detail. It's abundantly clear that David researched his subjects intimately. What I can say, is that without doubt, something extraordinary did happen when David executed the nine scenes in question here today."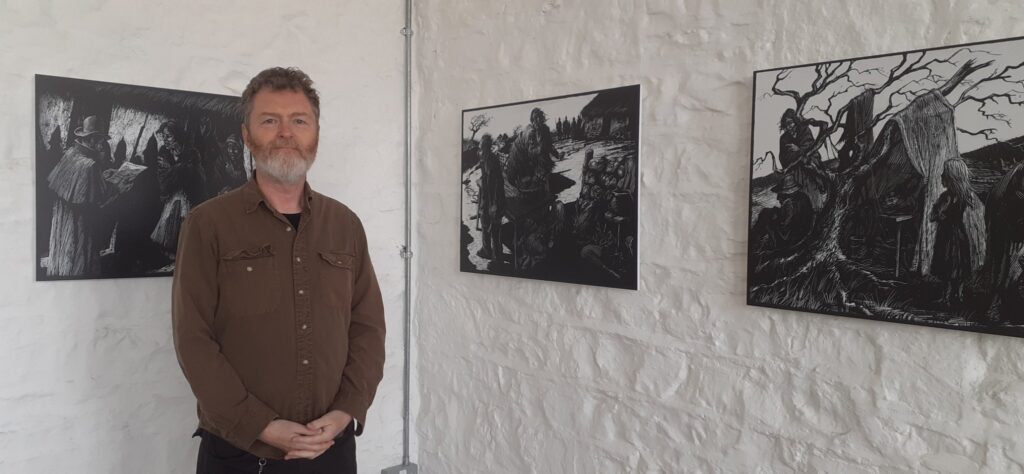 David Rooney in the Waiting Hall at the Irish Workhouse Centre
Each sketch was created using a scraping technique that scrapes away a top layer of black ink with a scalpel blade to uncover a layer of chalk below the black board. It is this technique that makes David's work both beautiful and distinctive. The whitewashed walls of the waiting hall add an appropriate background and context.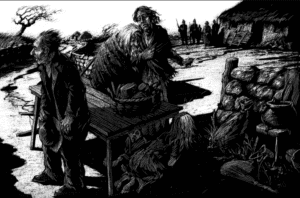 The Story of Ireland Famine Artwork
"I am delighted and honoured", said David at the launch event, "that these specially printed panels featuring the Famine Artwork have found a permanent home in The Irish Workhouse Centre in Portumna, ten miles from where my formative teenage years were spent, in the village of Eyrecourt, where my Dad served as the local Garda Sergeant."