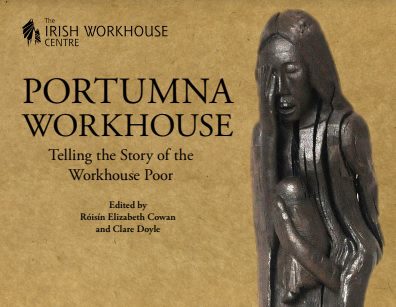 The Irish Workhouse Centre and South East Galway Integrated Rural Development are pleased to announce that it has published a book about the history of the workhouse to be launched in the Workhouse Boardroom on Friday 24th November at 6.30pm.
In telling the story of the workhouse, the book recounts lives marked by hardship and resilience. It is a compelling exploration of the inmates, staff and officials, and sheds light on the legacy of this hated institution. The book's front cover features an image entitled, 'Between Dusk and Dawn' by renowned local artist Kieran Tuohy, whose sculptural exhibit 'Dark Shadows' is on display at the Workhouse.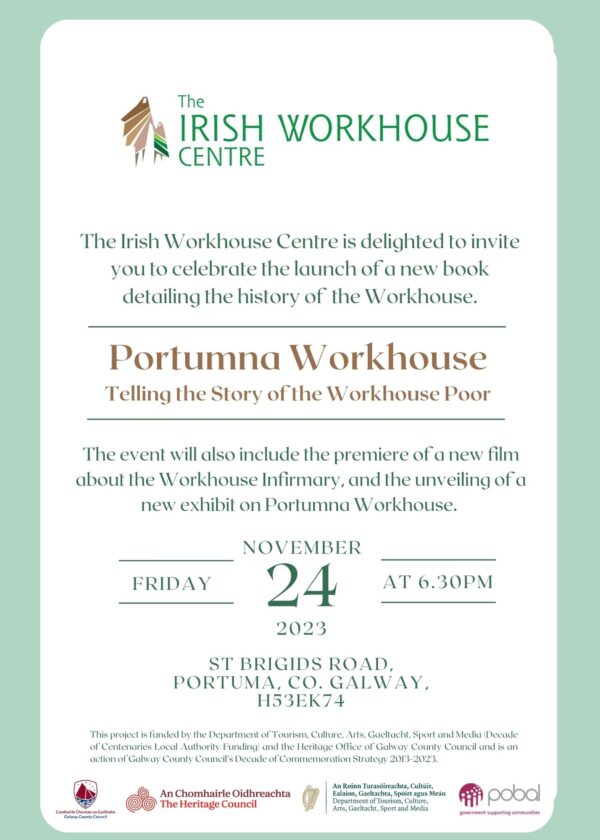 Until recently, not much was known about the life and death experiences of the paupers of Portumna Workhouse. The Union of Portumna was declared on 22 February 1850 and the workhouse building was opened in 1852 with a capacity for 600 but scant original records about the Union of Portumna remain. There are, for example, no registers of admittance or discharge for inmates or original minutes of Portumna Board of Guardians meetings, no Masters' Punishments Books, or other relevant, primary sources. As a result, research has been difficult and focused on the summary of Guardians' meetings published in the local newspapers and available online through the Irish and British newspaper archives respectively.
Editors Clare Doyle and Róisín Elizabeth Cowan said the following about the work: "In completing this research to date, we remember all those who lived and died in Portumna Workhouse. We still have much to learn about Portumna Workhouse and the people who walked the halls before us, but this book is a good start."
For those who would like to attend, please RSVP by 11th November to [email protected]